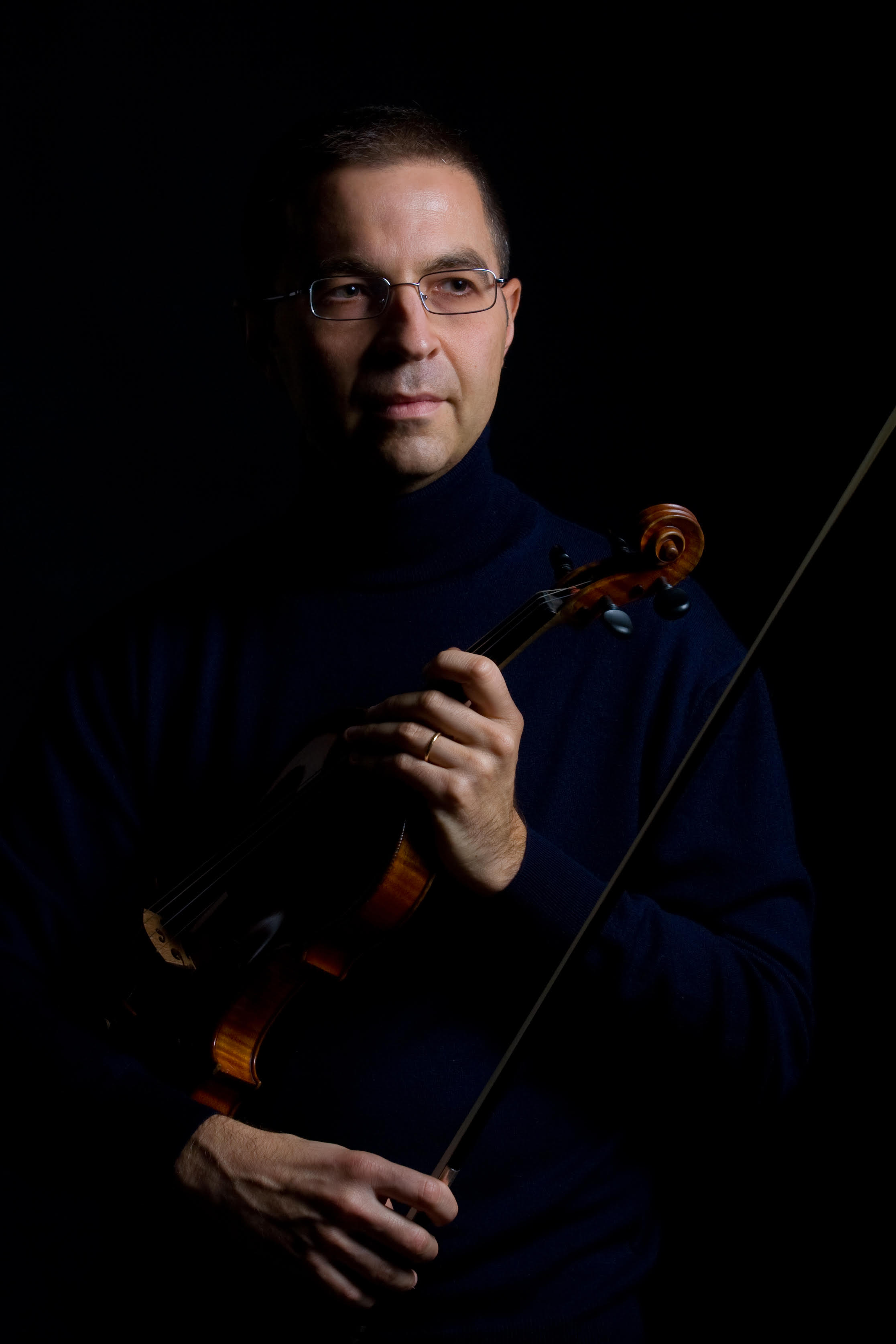 Violinist MARCO BRONZI graduated in 1987 from the Parma Conservatory just at the age of 18 with a maximum grade in violin, following which he was a "Superior Student" Scholarship-holder at the Fiesole Music School where he was student of Carlo Chiarappa. He later studied with both Yair Kless at the Rubin Accademy of Tel Aviv and with Pavel Vernikov at Portogruaro and after that he achieved a superior degree in chamber music still from Parma Conservatory with maximum grade and honours. In 1987 he was First Prize winner in the "Ada Dal Zoppo" Solo Violin Competition of Mantova—a victory that allowed him to play a series of solo concerts in Hong Kong. In addition, in 1986 Bronzi won both first prize in the solo violin competition "Lorenzo Perosi" at Biella, Italy and second prize at the Vittorio Veneto Competition. Bronzi, as violinist in the "Trio Pascal" together with his brother Enrico and pianist Jolanda Violante, asserted himself in various chamber music competitions, including a scholarship for the Chigiana Accademy in Siena (Italy).
After winning an international audition Bronzi became a member of the Orchestra Sinfonica "A. Toscanini" of Emilia-Romagna from 1992 until 2006. He then became professor of violin at the "G. Tartini" Conservatory at Trieste and then at the "C.Monteverdi" Conservatory in Bozen (Italy) where he is now teaching.
Beyond performing in several concerts as a solo violin and as a member of "Five Lines Piano Quintet" Bronzi has been founding member in the first violin section of both the Symphonica Toscanini (Lorin Maazel artistic and musical director) and the Filarmonica Toscanini, participating in greatly in Violin and Chamber music successful international tours under the direction of some of today's most important orchestral conductors: Maazel, Temirkanov, de Burgos. Pretre, Mehta, Masur with tours in Japan, Argentina. Brasil, Russia, Israel, countless European cities but, in particular, in the USA–one that touched Chicago, San Francisco, Los Angeles and culminated with the grand concert performed together with the New York Philarmonic at the Lincoln Center of New York directed by Maazel for the Toscanini Celebration.
Bronzi has worked as assistant concertmaster with the Orchestra of the Teatro alla Fenice in Venice and as both assistant concertmaster and concertmaster with the Orchestra Sinfonica of Emilia Romagna not to mention his work as concertmaster and soloist with the that orchestra's string chamber orchestra. He was first solo violin of the Erzelya Chamber Orchestra in Israel. He is concertmaster of the Orchestra Giuseppe Verdi of Parma (specializing in opera repetoire), concertmaster in the Orchestra Symphonic Orchestra of Val d'Aosta, and concertmaster of the Ravenna Chamber Orchestra. He has worked with the Orchestra Svizzera-Italiana in Lugano and is a frequent guest with the Orchestra del Festival di Brescia and Bergamo under the direction of both Maestro Agostino Orizio and Maestro Piercarlo Orizio.
Marco Bronzi completed a degree in Doctor at Law from the University of Parma (Italy) in 2003.